Overview
Keeping content up to date can be a real challenge! There's approximately 2,000 hours of content per year to consider and not all organisations are able to employee dedicated team members to handle this. That's where content streaming platforms like Seenspire and Screenfeed come in.
Using content streaming platforms can help you avoid repetitiveness and content fatigue by allowing you to create diverse and engaging playlists simply by selecting relevant feeds then scheduling and publishing via the Content Streaming Widget in embed.
1
Get a Feed URL from your chosen Content Streaming service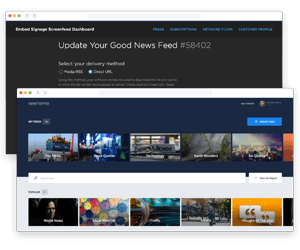 2
Add the URL to a playlist using the Content Streaming Widget in embed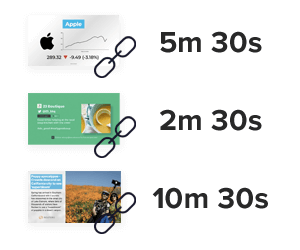 3
Publish to your screens and watch them continue to update automatically
Content Streaming Services
These third-party content streaming providers offer a wide range of feeds you can use to keep you content updated automatically with relevant, beautiful and engaging content.

Seenspire brings together automated Infotainment, Social and Teams content to keep your signage network consistently fresh and attractive for your audience.

Screenfeed offers ready-made, Data, Infotainment and Social content feeds that are automatically refreshed, to help makes screens more valuable to your audience.