Chrome OS for Signage Now Supported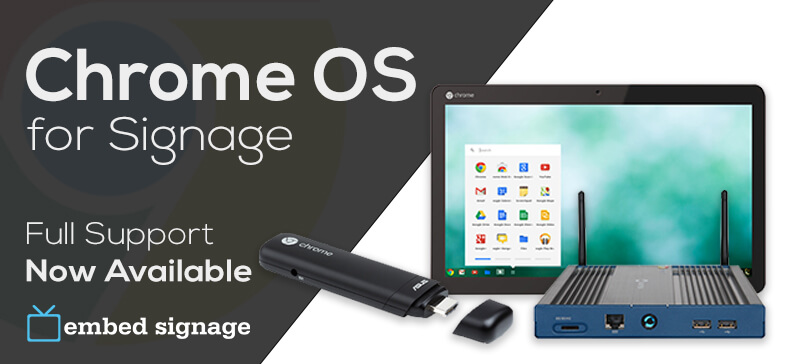 Chrome OS and Chrome based devices are quickly gaining traction and becoming a great choice for Digital Signage applications. Their secure, reliable architecture, minimal bloatware and affordable devices, make Chrome ideal for a Digital Signage solution on a budget.
Following popular demand and client feedback we are pleased to announce embed signage now offers full support for Chrome OS and Chrome based devices.
embed signage can deliver content to a wide variety of platforms and devices.
One Platform for All Your Devices –
Currently Supported Platforms:
iOS (iOS6+)
Android (Jelly Bean 4.2+)
ONELAN Media Players (V9.3.7+)
Samsung Smart Signage Platform
Windows (Windows 7+)
Mac OSX (10.7+)
Chrome OS (V.32+) – Newly Supported
Already got a Chrome device?
Download the latest embed signage Chrome App here.
Instructions on how to set up your Chrome device with embed signage can be found here.
Not using
with Chrome OS yet?
Get yourself a Chrome based device from your local distributor and sign up for a free 28 day trial to begin exploring the power of Chrome for signage and embedsignage.com.