Overview
Using Chrome for signage is a solid choice for projects. Chrome devices are built to keep working with simple, redundant architecture and no moving parts. Chrome OS is a secure, platform built on a solid architecture making this platform a great for Digital Signage. We are also a Google Cloud Chrome Technology Partner.
Compatibility: Chrome V.32+
*Touch not yet supported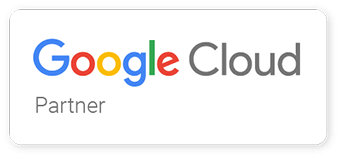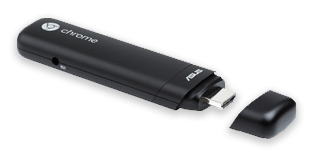 Chromebit
Similar to Intel®'s Compute Stick, Asus' Chromebit is a 'chocolate-bar' sized computer, great for Digital Signage on a budget. Boasting a Quad-Core Rockchip Processor, the Chromebit boots up in seconds and delivers full HD graphics in conjunction with automatic updates ensuring you'll always have the latest software.
Commercial Grade
For projects which need a bit more power and longer run times, AOPEN deliver Chrome specific, commercial grade devices.
The AOPEN Chromebase features a 22″ Full HD display, a tough, tamper-proof, fanless design for 24/7 operation and an Quad Core Intel® Processor.
AOPEN Chromebox is an Ultra-slim ruggedised media appliance with similar specifications to the Chomebase but for external displays.
Both devices come with a 3 year warranty as standard.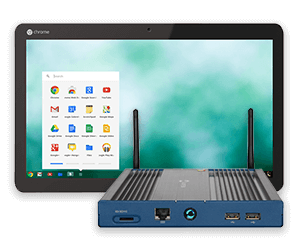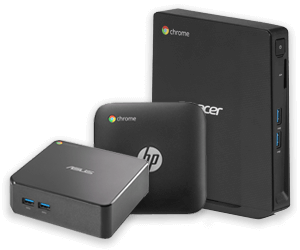 Media Players
Acer, HP and Asus all offer their own versions of Chromebox media players with varying performance and design. With processors from Intel® Celeron all the way to i7, there will be a configuration for most scenarios.
Need some help in choosing the right device for you? Get in Touch.
Remote Device Management
Engineered within embed signage are a range of network management tools. Using the device controller plugin, you can remotely reboot your chrome device from anywhere with an internet connection.
Through the embed signage devices dashboard, you can view Chrome OS hardware statistics such as model, software version, resolution and when its received it's channel of content.