Publishing your content to a device / group of devices, is done in the channels section. You can publish a single layout or multiple layouts to a channel and schedule when and for how long each layout plays. Specify which device(s) or groups of devices to publish your channel content to. Content is pushed to the registered device and stored locally for continuous playback, so your content will continue to play, even if a connection between the device and embed signage is interrupted.
Choose default layouts and publish to specific devices
Schedule layouts to play on days of the week and times of day
Override scheduled layouts with time and date commands
Easily view draft and live status' of channels
Folder management to help organise and segment channels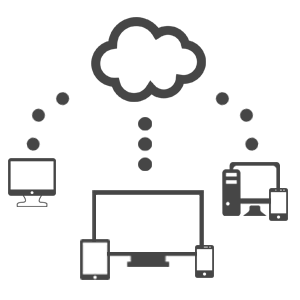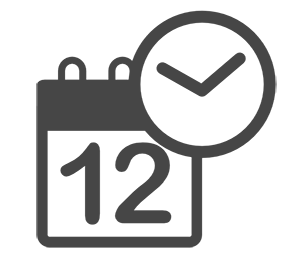 Advanced Scheduling
Schedule layouts to play at specific times of the day and on specific days of the week allowing you to keep your content fresh and relevant. Set up as many schedules as you need on a channel to make sure the right content is displayed at the right time.
Distribute Content to Specific Devices
Choose exactly which devices the channel content is published to, either choose a single device, selection of devices or push to pre-defined groups / folders of devices. This ensures you distribute the right content to the right device at the right time.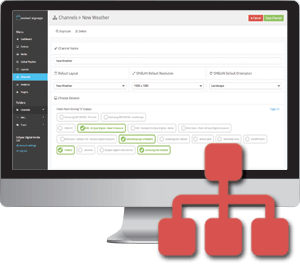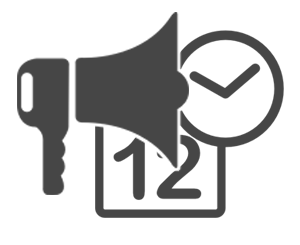 Override Schedules
Set layout overrides to play content at a specified time and date, regardless of what schedules are currently set on that channel. Overrides are perfect for time and date sensitive content or campaigns and once the override is complete, the previously configured channel schedule(s) will continue as normal.
Folder Management of Channels
Quickly create your own folders to make segmentation and management of your channels quick and easy. Move channels into folders and navigate quickly through those folders to help with channel organisation.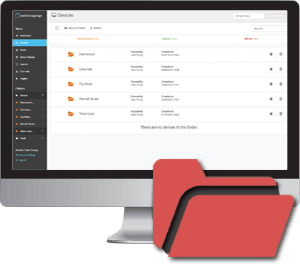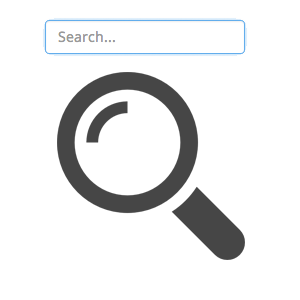 Search & Filtering
Instantly find the channel you are looking for by using the instant search function at the top of the channels page. Begin typing your search query and see the results instantly filter to match your search term.