Development Log 12th October 2017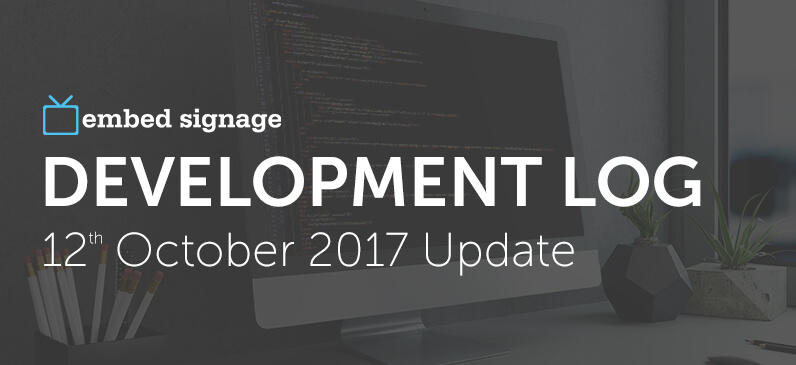 Today we have published some new updates to embed signage, here is what has been updated:
Licensing Visibility
We've now improved the way users can access and maintain licences on their account. These improvements include:
Subscription page
Subscription settings now has a list of all the licences on the account, including which device they are assigned to and the licence type:
Licences on a Device
User can view the licence key, type and expiry date that is currently assigned to a device by viewing the Device Edit page:
User Subscription Notification Settings
Subscription email notifications can now be set up for any user on an account. When creating a new user or editing an existing user, there is now an option to enable 'Subscription' email notifications:
Subscription Emails
The new licence subscription emails will be sent out weekly (Tuesday) to any user that has chosen to receive the email via their user settings. The email will include notifications for licences due to expire / expired in the following periods: 60 days, 30 days, 14 days, 7 days, Expired.
Channel Size
The file size of a Channel will now show after it has been published.
Zone Playlist – Media Upload
We have added an 'Upload' box for users to easily upload new media items directly to a zone playlist.
Large Image Alerts
To aid users understand the impact of using oversized images, both in terms of resolution and file size, we have introduced alerts for large images when uploaded to the media library.
Bug Fixes:
Global playlist text items – formatting now applied correctly when inserted into a layout
Management of errors in playback improvement to avoid specific errors impacting other elements
Permanent removal of decimal points for zone dimensions
When adding a new swatch in colour picker, UI no longer overflows
Creating a new template now takes all layout content and data
Duplication of a layout now duplicates any zone group settings
No longer possible to create a new layout without a resolution when no device is registered
Start using
now
If you've already got an embed signage account, just login.
If you do not yet have an embed signage account, simply sign up for a free 28 day trial and start today!