Development Log: 15th June 2016 updates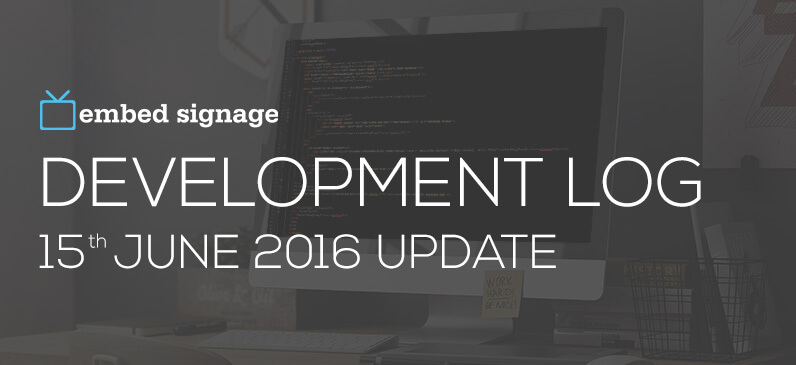 This week we have made further improvements to embed signage. Details of this update include:
Chrome OS – Updated to App Version 1.1.0
Added Remote rebooting via device controller
Added app version number to the application information
Bug Fix: Local file storage corrected
Windows & MacOS – Updated to App Version 3.4.2
Flash now supported via the website widget. *Flash must be installed on the device.
Playback performance improvements
Bug Fix: Video playback corrected
Bug Fix: Local file storage corrected
Bug Fix: Where account name and device name would still show when device had been deleted.
Samsung Smart Signage Platform
Short URL Input added. New URL inputs for running the embed signage app on SSSP to save time on setup. New URLs are non-case sensitive and do not require https://, simply enter your desired URL below:


embed.cloud (landscape)
embed.cloud/p (portrait)
embed.cloud/pr (portrait reverse)
embed.cloud/lr (landscape reverse)

Bug Fix: Device time now detected correctly for channel scheduling. (If you experience this issue, please publish the channel)
If you are running SSSP D or E series, we recommend that you update your application to the latest version. To do this, follow these steps.
Other Improvements
Changed default device volume setting to 0
Bug Fixes:
Global zones can now be hidden / shown through interactions and content triggers
Removing tags corrected
Cancelling firmware updates while running the SSSP troubleshooter, UI fixed
If first playlist item is an audio file the playlist continues
Notification issue when registering a new device saying storage device is not available
Allergy information board publishing now fixed
What do I need to do?
In order to benefit from these new features and fixes, please update your device applications / software as follows:
Windows – update to 3.4.2 and republish channel content
Mac – update to 3.4.2 and republish channel content
Chrome OS – No update required (automatic updating via reboot)
If your account dashboard does not show the new changes, please clear your browser cookies and cache then reload the embed signage dashboard by doing SHIFT + REFRESH.
We are constantly developing and improving embed signage. To keep up to date with all the latest improvements sign up for our email alerts and follow us on our social media accounts.
Subscribe to receive emails from