Development Log: 4th November 2016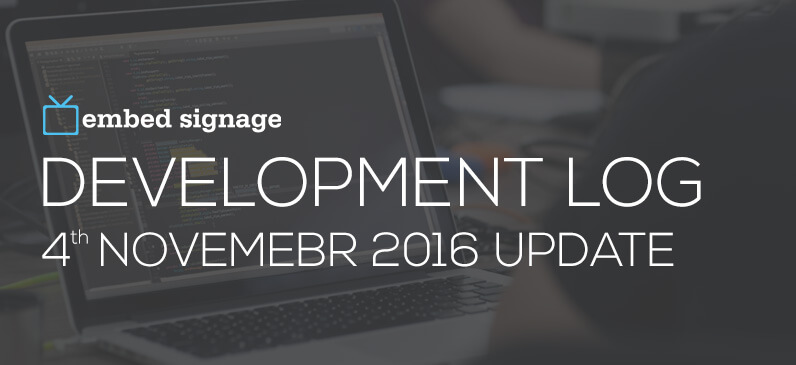 We've got a few new things to update you on. Below is our latest development log of things pushed live to embed signage and this update includes:
General Improvements
NEW: Selection of default fonts added to all accounts.
Fonts include: Alex Brush, Amble, Exo, Aller, Chunk Five, Canterall, Fira Sans, Nobile, Kaushan Script, Open Sans, PT Sans, Quick Sand, Sinkin Sans, Source Code, Source Sans.
UPDATE: Account Primary Users (user that set up account) cannot be added to user groups.
UPDATE: User group option available in user edit page.
UPDATE: Devices without a channel are no longer automatically selected when creating a new channel.
UPDATE: Trying to add tags without defining a tag now returns a 'No tags' notification.
ADDED: Live device date and time now visible via device controller
Bug Fixes
FIXED: RSS refresh time. Now uses user defined refresh time if set to over 60 seconds.
FIXED: No longer possible to create duplicate tags.
FIXED: Uploading Media year now displays as 2016 not 116.
FIXED: Dynamic media item timings bug now fixed.
We are consistently developing and improving embed signage. Keep up to date with our latest updates and improvements by signing up for our email alerts and following us on our social media accounts.
Subscribe to receive emails from