Development Log: 5th July 2016 Updates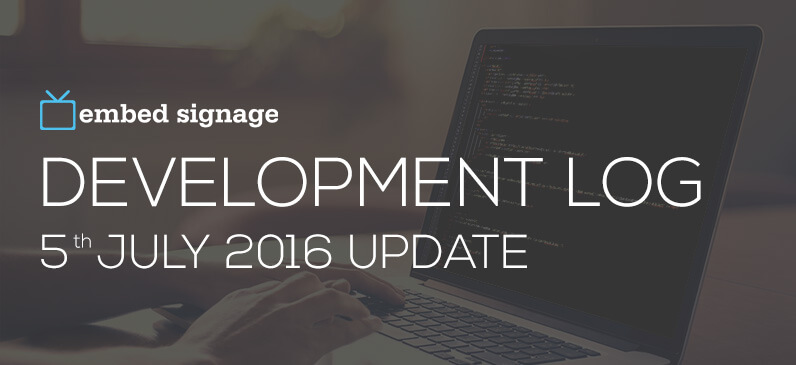 This week we've made a range of improvements to embed signage. Details of this update include:
Samsung Smart Signage Platform – App Version 3.4.6
Added: Set Device Time and On/Off Timer remotely via the device controller.
Bug Fix: Where long videos failed to load quick enough to play in the playlist, content would stop. Now playlist waits for video to load before continuing with playlist.
Bug Fix: Unsupported video files (resolutions over 1920×1080) would freeze. Content now overlooks unsupported video and notifies the user.
If you are running SSSP D or E series, we recommend that you keep your application updated to the latest version. To do this, follow these steps.
iOS9+
Bug Fix: Where video playback would pop out of frame – If this occurs on your iOS device, please republish the channel .
UX / UI Improvements
Added: Volume control function added to SSSP Source Input Widget and IPTV Widget.
Bug Fixes
Where selecting devices after starting the device controller performed no action.
Where the select option for the device controller had no affect.
Login redirect issue (/ajax).
If your account dashboard does not show the new changes, please clear your browser cookies and cache then reload the embed signage dashboard by doing SHIFT + REFRESH.
We are constantly developing and improving embed signage. Keep up to date with the latest improvements by signing up for our email alerts and following us on our social media accounts.
Subscribe to receive emails from