Digital Signage with Intel® NUC and embed signage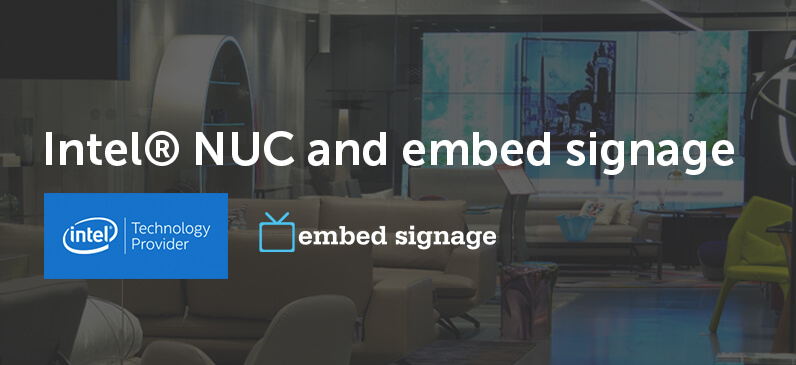 embed signage has been working closely with Intel® to optimise the software for Intel NUC Digital Signage players. This close working relationship with Intel® means embed signage can aide businesses further to utilise Intel® NUC and Compute Stick products for professional digital signage solutions.
"The Channel Innovation and Solutions Division (CISD) within Intel appreciates working with partners like embed signage to deliver innovative solutions based on the Intel® NUC. The latest software solution from embed signage is another great step in the development of Intel NUC based digital signage"
John Deatherage, CISD Marketing Director, Intel
Alongside embed signage, businesses utilising NUC or Compute Stick products that include vPro support can also benefit from a range of remote management tools provided by Intel®. vPro is highly recommended for unattended digital signage due to its out-of-band remote manageability capabilities i.e. still access the PC BIOS etc even if the OS is unresponsive. Intel® also provides free management tools such as Intel Setup and Configuration Service and Mesh Central.
"the relationship with Intel® has allowed us to further develop our support for the NUC and Compute Stick products and as such we are due to release an update to our desktop application that includes a multitude of enhancements that our clietns and resellers are going to benefit from".
said Daniel Cruickshank, Full Stack Developer at embed signage
To find out more about using NUC or Compute Stick products for Digital Signage with embed signage check out the Windows devices page and the Intel NUC Digital Signage page.
Start using today!
Start a Free Trial or if you want to discuss a project in more detail get in touch.
For more information like this, sign up to our mailing list and be the first to know.