embed announces partnership with Seenspire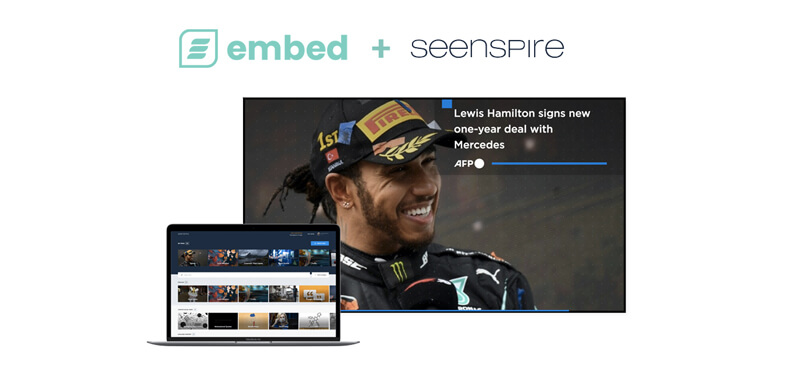 We're very proud to announce our partnership with Seenspire.
Seenspire is the first streaming service to provide unlimited access to digital signage content in a single subscription and help organizations maximize the impact of their digital signage communications channel without additional overhead or the requirement to learn new tools.
This alignment between embed and Seenspire is a great partnership for both parties and offers embed customers a new way to tackle the number one challenge in digital signage head on – keeping content fresh!
"We have seen a rise in customers looking for ways to automatically update their screens with a wide variety of content from sources they already have, such as LinkedIn and Microsoft Teams, but also further diversifying their playlist with Infotainment feeds such as news, sports, digital art and stock quotes… Partnering with Seenspire is a great fit as not only does the content look great, but the streaming service has lots of tools to allow both automated and manual curation and customisation of the content"
Drew Harding, embed signage
"embed signage is a partner that cares deeply about solving challenges for their end-users. This is what creates alignment between Seenspire and embed and this is why we are looking forward to partner with them to solve the content challenge for their users."
Jelle Lippens, Business Development at Seenspire
Using Seenspire content feeds within embed is effortless. All it takes is to get a content feed URL from the Seenspire dashboard, then insert it into an embed playlist via the widgets section alongside any other playlist content.
"The partnership provides a great opportunity for embed customers to easily and automatically generate an attractive and dynamic content playlist that's relevant while retaining the complete flexibility offered from the other features within embed"
Drew Harding, embed signage
What next?
Seeing is believing – see how using Seenspire and embed can transform your signage content.