embed signage Becomes a Google Cloud Partner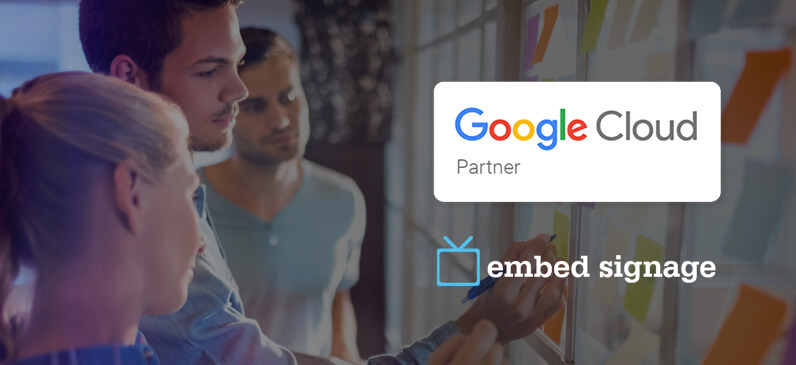 Today we can announce that embed signage has become a Google Cloud Chrome Technology Partner, aiding businesses to utilise Chrome technology for professional digital signage solutions.
The Google Cloud Partner Program is for businesses that create products that complement, enhance, or extend the reach / functionality of Google Cloud products. Embed Signage's participation in Google Cloud's partner program recognises its professional Digital Signage solutions delivered to businesses utilising Google's Chrome OS platform. The pairing of Chrome OS with Embed Signage offers businesses a secure, reliable and enterprising digital signage package with a variety of benefits.
"We're very excited to become a Google Cloud Chrome Technology Partner" said Daniel Cruickshank, Full Stack Developer at embed signage. "the relationship with Google now means we can expand Chrome OS support and features to further enhance our software for businesses".
Businesses undertaking Digital Signage projects using Chrome OS can uniquely benefit by utilising Chrome Device Management (CDM), which makes deployment of Embed Signage in kiosk mode a quick-fire, simplified process. Additional benefits of CDM also include the ability to configure reboots, device network settings and device health monitoring including system logs.
Watch this video to see how to deploy embed signage in kiosk mode using Chrome Device Management (CDM) in a matter of minutes:
Can't use YouTube? Watch on Vimeo instead.
To find out more about using Chrome OS for Digital Signage with embed signage check out the Chrome OS page.
Start using today!
Start a Free Trial or if you want to discuss a project in more detail get in touch.
For more information like this, sign up to our mailing list and be the first to know.