embed signage is a Digital Signage Experience Awards (DIZZIE) 2022 Finalist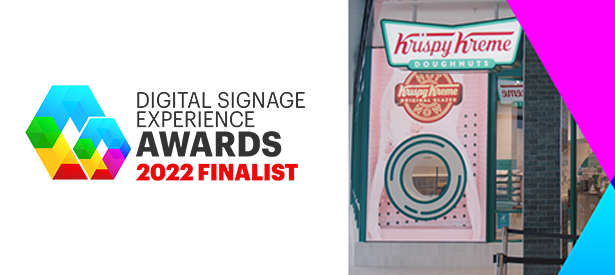 Digital Signage Experience (DSE) has unveiled the 2022 Digital Signage Experience Awards (DIZZIE) finalists… and embed is listed!
embed is a finalist in the Restaurants category for the deployment and utilisation of our digital signage software at Krispy Kreme's Edinburgh St James store.
This store encompasses digital technology at its core with the complete in-store digital signage experience managed and controlled through embed.
It incorporates a modern take on the original initiative by founder Vernon Rudolph. Back in 1937, when cooking doughnuts at a rented building in NC, passers-by would smell them and stop to ask if they could buy the fresh hot doughnuts. So, he cut a hole in an outside wall and started selling Hot Original Glazed doughnuts directly to customers on the sidewalk. This story is carried through in today's iteration at Edinburgh St James Quarter where dozens can be served directly through the LED hole in the wall and the theatre around the 'Hot Now' doughnuts is incorporated as a fundamental experience of the store.
The 10″ tablets provide staff with control over HOT NOW states for the in-store lighting as well as content for the 5×1 menu boards and LED Hole in the Wall.
The awards program recognises companies from around the world whose digital signage projects challenge existing standards and drive the industry forward. The awards program is part of the Digital Signage Experience event taking place November 17-19 at the Las Vegas Convention Center.
David Drain, DSE Director of Event Programs said, "I was truly impressed by the number of high-quality entries. It's clear that digital signage is no longer an afterthought, but an integral part of a building's design. Brands and organizations are effectively using the medium to reach its target audience and fulfil strategic objectives."
Nominated projects were judged by distinguished members of the DSE and Digital Signage Federation Advisory Boards and the Winners will be announced at the DSE Awards Ceremony on November 18 at 5PM.