embed signage Shortlisted for Company of the Year at AV Technology Awards 2020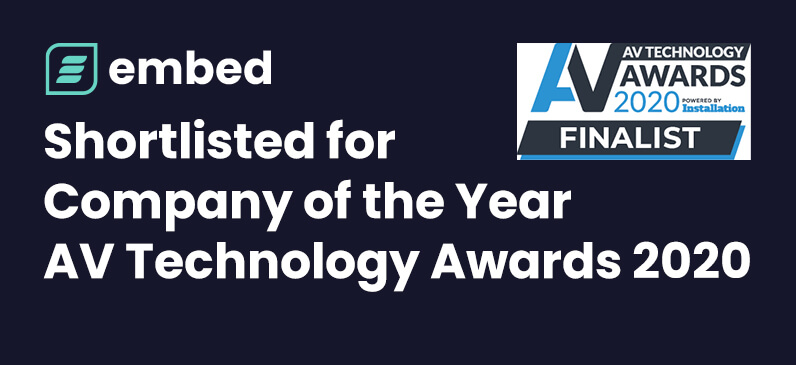 The 2020 AV Technology Awards category shortlists have been announced and it's with absolute honour we can reveal that embed signage has been shortlisted for 'Company of the Year'.
2020 saw a record number of entries for the AV Technology Awards and the Company of the Year award is to recognise a company from within the AV market that has demonstrated outstanding technological or operational performance between March 2019 and February 2020. To be shortlisted the company must demonstrate:
Exceptional/notable operational or commercial performance
Achievement of strategic goals
Impact on the wider industry
Major client wins and/or key contracts
Notable product/technology development and deployment
Successful completion of notable projects
Making the shortlist for Company of the Year is a huge compliment to embed as a business but also to all of our employees, resellers and partners. We're extremely proud to be on the shortlist and look forward to the winners announcement later in the year.
This year, the awards ceremony takes place digitally for the first time in history due to ongoing COVID-19 measures. The winners will be announced between 23rd and 25th June 2020.