embed signage takes part in AVoIPoE Design Thinking Roadshow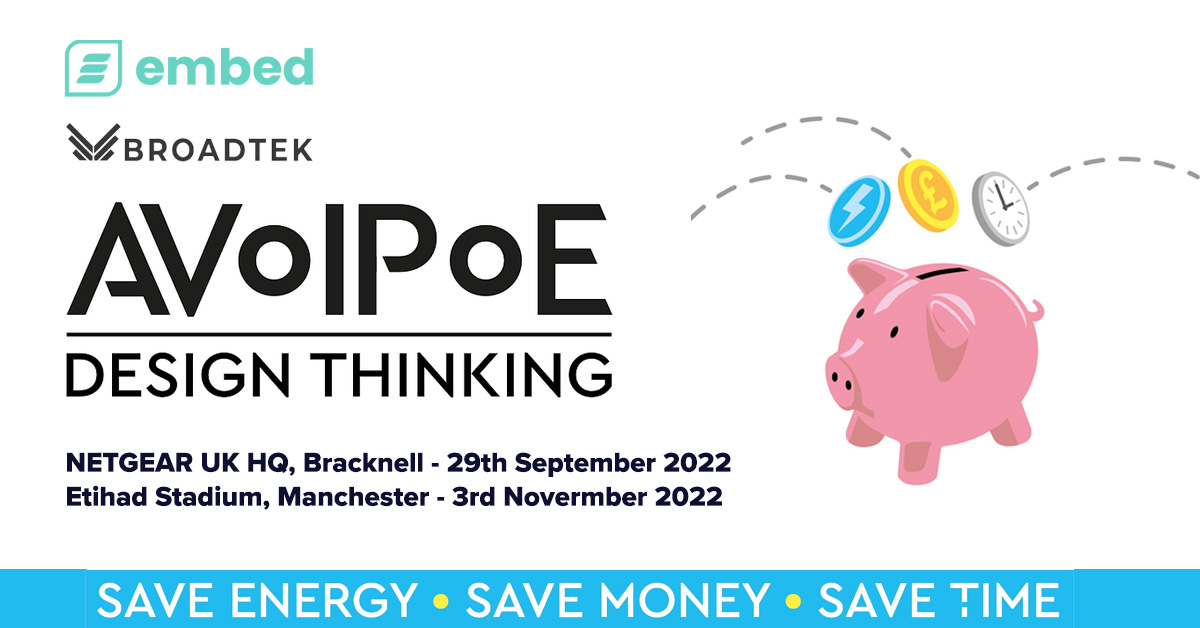 Calling all AV Systems Integrators, Resellers, Consultants, Solutions Architects and Technical Professionals!
We're proud to announce that embed signage will be taking part in the AVoIPoE Design Thinking Roadshow organised by AV consultants Broadtek.
The roadshow takes place initially in two UK locations and is a chance for AV professionals to meet vendors and industry experts to get hands-on with the latest AVoIPoE solutions, including embed.
We'll be showing off the variety of features available within embed including controlling of on screen content changes via TCP/IP commands, Touch interactivity, Power BI secure dashboards and reports, Sky News live streaming, Travel widgets and more.
We will also be discussing the many benefits AV professionals can gain by becoming an embed reseller to save time, save money, generating recurring revenue and contribute towards positive climate change and more.
AVoIPoE Event Dates are:
Live Stream – 29th September 2022
NETGEAR UK HQ, Bracknell – 29th September 2022
Etihad Stadium, Manchester – 3rd November 2022
Integrators and organisations are looking for smarter solutions to meet ever-growing demands for agility, flexibility, and energy savings. AVoIPoE Design Thinking provides applicable insights that could transform the way you design, install and control AV / IT systems.
Explore interactive PoE meeting room + live production studio setups
Keynote from AVoIPoE pioneer, Mike Lewis (Silvertel)
Discover new products from leading AVoIPoE brands
Exchange ideas with other AV / IT professionals
AVIXA certified training (optional)
FREE to attend. Lunch provided
Live stream of first event
👇 Register now 👇
Spaces are limited so be sure to act quick. Register here: https://news.broadtek.eu/avoipoe-roadshow