embedsignage New Features Update – August 2015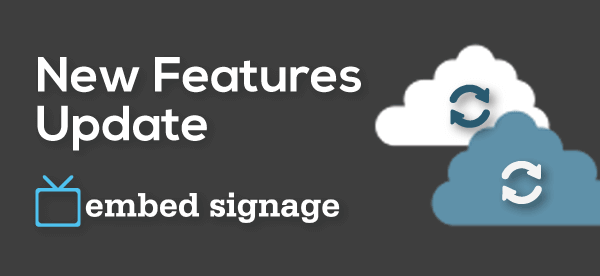 embedsignage New Features Update – August 2015
We are excited to announce that we have made lots of further improvements to our cloud based digital signage software.
Watch the video to see whats new in this awesome update:
The new features are as follows:
Improved performance (Layout Builder/Previews/Device Player) – faster loading, faster previews and more efficient content playback
Multiple content editing – bulk edit content within a zone
Multi zone editing – bulk edit multiple zones within pages
'Automatic' Weather now uses device pin location – pinpoint the device weather by positioning the exact location on the device map
Default layout background (Background Image/Colour) – set a default background image or colour
Global elements – zones of content that appear across every page
Lock zones – lock content, position and dimensions
Playlist item actions – trigger content playback in other zones by setting start or end actions to specific content items
Edit content names – ability to change the name of any content item
Duplicating content items – duplicate any content item and keep all existing formatting
Play video until finished – single click to set a video to playback until finished
Play content infinitely – set any playlist item to play infinitely
Existing users
Sign in to check out the new features on embed signage today!
Not using embed signage yet?
Sign up for a free 28 day trial and see how the new embedsignage.com features can enhance your digital signage.