Intel® Compute Stick and embed signage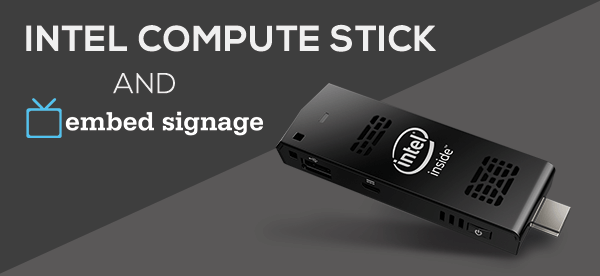 Already got a screen? No Problem.
embed signage and Intel®'s Compute Stick could be the pairing you've been looking for.
Small plugin mini PC devices have been advancing at a rapid rate and the introduction of Intel®'s Compute Stick earlier in 2015 set a new benchmark – a little stick with a big surprise. As an all-in-one computer, the Intel® Compute Stick offers a unique opportunity to business owners with existing screens, to connect the device via HDMI and turn that screen into a Digital Signage display when paired with embed signage.
Small yet surprisingly powerful. Squeezing a quad-core Intel® Atom™ processor, 2GB memory and 32GB storage into a stick that fits in the palm of your hand – Intel.com
The Intel® Compute Stick price is also very competitive with a UK RRP of between £90-£130, offering an inexpensive solution for turning any screen into a fully fledged digital sign (including compatibility with various touch screens).
With built in 802.11bgn WiFi capability, all that is needed for set up is power, a network connection, a display and an embed signage license. If you require Ethernet connectivity, you could explore using a compatible USB to Ethernet adaptor.
Get an Intel Compute Stick set up with :
With embed signage supporting Windows OS, getting your hands on a Windows based Intel® Compute Stick means you can use it with embed signage, however the standard Windows OS is not specifically designed for Digital Signage. This is why we have provided a basic step by step guide on how to set up a Windows 8.1 Intel® Compute Stick to be more suitable for running Digital Signage content!
Not using digital signage yet?
If you've not yet experienced the power of Digital Signage, give it a try.
Sign up for a free 28 day trial account or get in touch with us here.
If you already have an embed signage account, login and try something new.
Keep up to date with all the latest news, updates and industry insights by subscribing to our mailing list.