Introducing the RS232 Plugin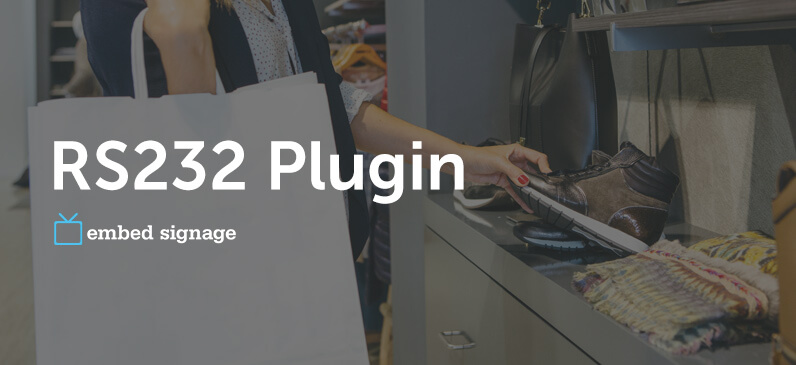 Introducing the RS232 Plugin
The RS232 plugin is something we are very pleased to announce is now available to any embed signage user using compatible ONELAN, Windows and Mac devices.
RS232 with ONELAN (Screen On / Off Control)
Using the RS232 widget and a ONELAN compatible RS232 to USB convertor you can output RS232 commands. These commands can be sent to control an RS232 ready display to turn the screen on and off.
RS232 with Windows and Mac (RS232 Input)
Windows and Mac devices running v4.0.3 app or above, support RS232 inputs. This plugin gives users the ability to trigger content depending on the RS232 command received. This is a sensational way to create immersive experience with external devices for example using RFID sensors you could trigger content in a lift and learn / place and learn scenario, such as the below:

Can't see the video? Watch on YouTube
Some other examples of using external devices to trigger content could be RS232 Motion / proximity sensors. This could be ideal for trigger content when motion is detected in a specified range. Or using RS232 pressure sensors for activating content when people / vehicles increase pressure on the sensor.
Read: How to use the RS232 plugin for ONELAN, Windows and Mac devices
Audience?
The lift and learn, place and learn and motion sensor concepts are perfect for any industry where a customer interacts with a product or screen. Industries such as retail, education, corporate as well as museum and leisure facilities would all benefit from using these concepts.
As this plugin is suitable for Windows and Mac receiving RS232 inputs for content triggering, perhaps you have a project in mind or RS232 device that you want to experiment with? If you would like the RS232 plugin added to your account, get in touch.
Not using yet?
Start a Free Trial or get in touch with us to discuss your project in more detail. For more insights like this, sign up to our mailing list and be the first to know.