LG WebOS 3.2 Now Supported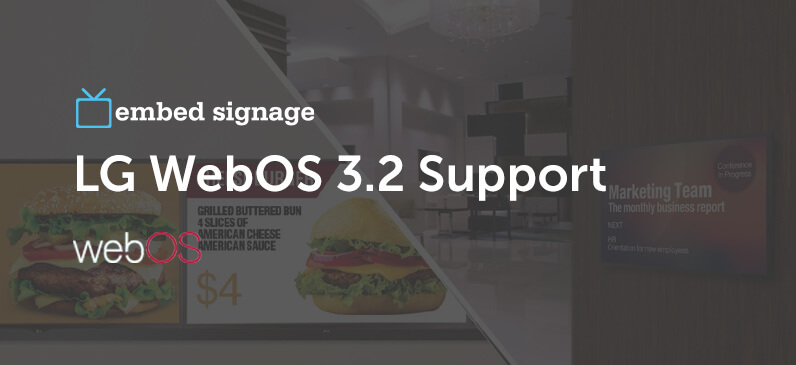 Following on from our recent announcement of LG WebOS 3.0 support, we can now announce support of the WebOS 3.2 model displays with embed signage.
Compatible LG WebOS 3.2 Displays
Models as of 28th September 2017:
32/43/49/55/65SM5D – FHD 450 nit Displays
32/43/49/55/65SM5KD – FHD 450 nit Displays with Speakers
Resources
PDF: Security, Networking and Firewall Technical
PDF: Media, Widgets and Plugins by Platform
PDF: Device Information and Controller Functions by Platform
Set up an LG WebOS 3.2 Display with
ACCESSING SERVER SETTINGS VIA MENU
1) On the remote controller, press the SETTINGS button
2) Select Ez Setting > SI Server Setting
SETTING SERVER SETTINGS FOR EMBED SIGNAGE
1) Set 'Application Launch Mode' to 'Local'
2) Set 'Fully Qualified Domain Name' to 'On'
3) Enter the domain as 'http://embed.cloud/lg/embed.zip'
4) Set 'Application Type' to 'ZIP'
5) Set 'Local Application Upgrade' to 'REMOTE' a pop up should show to upgrade app. Press 'Confirm' if your device is connected to the internet and everything is working as it should it should say 'Upgrade Completed'
6) Reboot your device embed signage should launch after reboot
Get started with
and LG WebOS 3.2
Once you've got your LG WebO 3.2 display running the v1.0.0 application, just login to your account and start pushing content to it.
If you don't have an embed signage account yet, you'll be pleased to hear you can sign up for a free 28 day trial right here and get started today!