Major update to Samsung Smart Signage Platform Support with embedsignage.com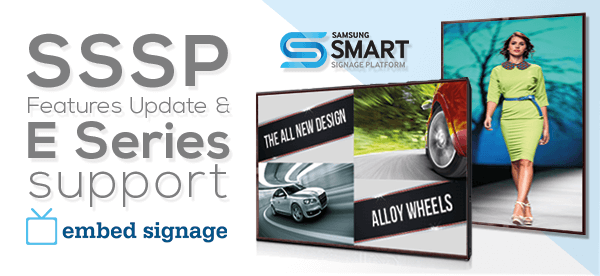 Since 2014 Samsung's Smart Signage Platform generation 2 displays (a.k.a. D series) have been supported through embedsignage.com. The platform partnership provides users ability to publish multi zone digital signage content directly to the Samsung displays, without an external media player. This has since become an extremely popular platform with nearly 40% of all devices registered to embedsignage being a SSSP D Series display.
nearly 40% of all devices registered to embedsignage are Samsung Smart Signage Platform
Following the popularity of the platform and client feedback, we have focused on developing some improvements to our platform to further enhance the support for the SSSP D Series displays. Today we are pleased to announce the following major improvements, effective now.
Landscape, portrait, reverse portrait, reverse landscape video playback
Playback two videos simultaneously in landscape orientations
Source input reliability improvement
Touch device, including gesture, improvements
Improved channel publishing efficiency
Remote Firmware updating for all firmware versions (main, sub, sub2, mystique)
Improved status reporting including device temperature (°C) and CPU
To take advantage of these new improvements, please restart your D series device with a working network connection.
Samsung Smart Signage Platform V3 – E Series Displays Now Supported
Following on from the improvements to the D Series SSSP Displays with embedsignage.com, we are also pleased to announce the support of Samsung's new generation of Smart Signage Platform, Version 3 a.k.a The E Series Displays, effective immediately.
Not using embedsignage.com with Samsung SSP yet?
Get yourself a Samsung SSP D or E Series Display from your local distributor and sign up for a free 28 day trial to begin exploring the power of SSSP and embedsignage.com.