New embed signage Chrome OS App Update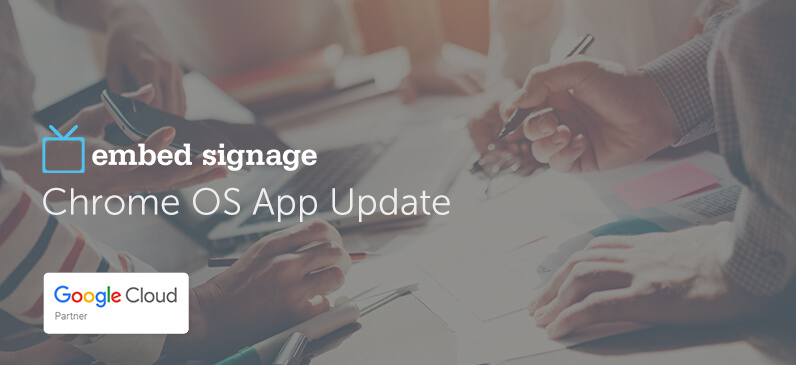 This week we have released a new embed signage Chrome OS App. Details of this update include:
Chrome OS – Updated to App Version 1.1.1
Added: Touch Support
Added: Enhanced Playback
Added: Storage Space Indicator
Bug Fix: Where The App Appears in a Small Screen
Bug Fix: Video File Type Error
Bug Fix: Channel Download Error
Coming soon to the embed signage Chrome OS App are awesome features such as Troubleshooting Tools, Remote Orientation Adjustment and Schedule Reboots!
What do I need to do?
Already use the embed signage Chrome OS App?
In order to benefit from these new features and fixes, please reboot your Chrome OS device with a live internet connection (automatic updating via reboot).
Haven't tried the embed signage Chrome OS App?
Download the latest app here.
Digital Signage Deployment In Minutes
Check out this video to see how to deploy embed signage in kiosk mode using Chrome Device Management in minutes:
We are constantly developing and improving embed signage. To keep up to date with all the latest improvements sign up for our email alerts and follow us on our social media accounts.
Subscribe to receive emails from