Samsung Introduce New OM-D Range High Bright Smart Signage Platform Displays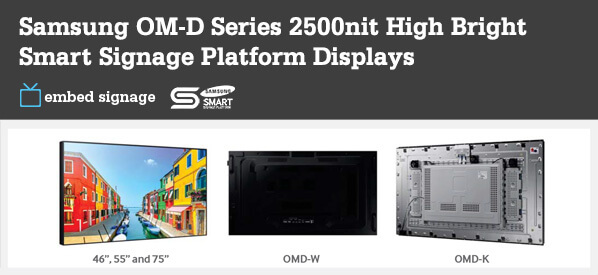 Samsung have introduced a new range of high-bright commercial Smart Signage Platform digital signage displays boasting 2,500 nit brightness, 5000:1 contrast in 46″, 55″ and 75″ models – ready to use directly with embedsignage.com.
The new range, known as the OMD Series LED-lit LCD displays convey bright graphics and easily readable text in high ambient light environments and in outdoor applications. This range of displays provide a good option for digital signage projects in retail shop front windows, sport stadiums, drive-thru restaurants and leisure centres with the use of the displays for outdoor environments requiring a custom-designed weatherproof enclosure.
"Samsung continues to develop solutions that enable businesses to make smarter signage choices, whether that's making the transition from a printed poster to dynamic digital signage in a storefront window for increased visibility or upgrading to an all-in-one solution for easier content management. We understand that capturing the attention of consumers today can be challenging and created the OMD Series to offer a simple, smart and visually attractive way for businesses to showcase content, so that no matter the environment their messages will come across clear and bright."
Thomas Evans, director of display product marketing at Samsung's Enterprise Business Division
The OMD series display come with a high contrast ratio of 5,000:1 that allows clear and consistent delivery of visual messaging and at 2500 nits, these screens deliver ultra-high brightness. The range also features an energy-efficient LED backlight along with an automatic brightness sensor that assists with reducing power consumption and provides optimal visibility. Further to these features, all of the OMD Series displays come equipped with Samsung's circular polarizing technology – a technology that allows viewing content on the display even while wearing polarized sunglasses.
These OMD high brightness displays come in two models: 1) as a ready-to-mount display for indoor use or 2) as a panel kit for outdoor use within a custom-built enclosure:
Indoor use: The OMD-W Series, designed for high ambient light indoor environments where visibility and brightness are the core requirements, such as a store front window. This model offers thin bezels of 9.3mm and under and are ready to install
Outdoor within enclosure use: The OMD-K Series, is a panel kit for installing within a customised enclosure for outdoor environments such as drive-thru locations and leisure venues
The Samsung OMD Series displays come with the built next-generation Samsung Smart Signage Platform and RJ45 LAN and built-in WiFi, making them the perfect partner for high bright digital signage deployments with embedsignage.com. Using the WiFi feature, content can be delivered wirelessly from embedsignage.com directly to the displays, meaning that power is the only cabling required to drive the display.
They are all rated for 24/7 operation and have Samsung's three-year onsite warranty. They have connectivity via VGA, Display Port, HDMI and DVI connectivity and as with all other Samsung Smart Signage Platform D Series range, they can be installed in both portrait and a landscape orientations.
Already have a Samsung Smart Signage Platform D Series display you want to use with embed signage? Sign up for a free 28 day trial and give it a go.