Samsung Smart Signage Platform 4.0 TIZEN™ Displays Now Supported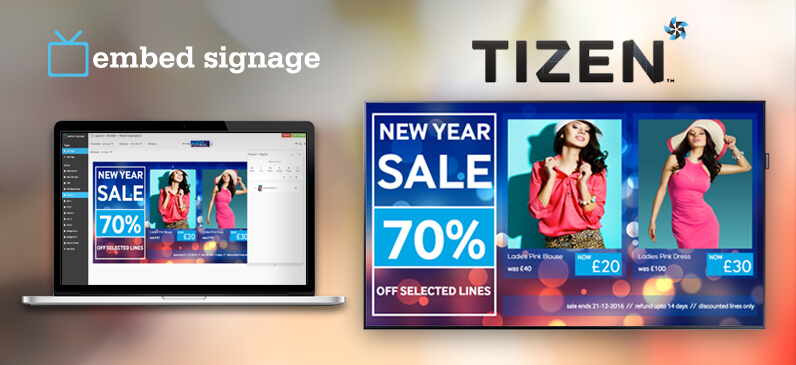 Today we welcome Samsung Smart Signage Platform (SSSP) 4th Generation TIZEN-powered digital signage displays (firmware 1008.2+) to the supported devices list for embed signage.
As a long standing supporter of SSSP displays we are pleased to bring the latest and most powerful SSSP displays to embed signage. From today users can connect their TIZEN-powered SSSP displays to embed signage by running our TIZEN™ app 1.0.1 via the URL Launcher (embed.cloud/t) and benefit from:
Dramatically improved SSSP performance including better HTML content playback and CSS animations
Remotely change display orientation – landscape, portrait, reverse landscape and reverse portrait
Remote firmware updating
Real-time device management including screenshots, rebooting, on / off timer schedule, set time and date and adjust volume
IPTV (http/hls only) and Source input (HDMI, DVI etc) support
Benefit from all the previously supported features of SSSP including external storage expansion (via USB), multi zone content, advanced scheduling, conditional play, widgets and much more
Step by step guide to setting up a TIZEN™ display for digital signage use with embed signage
The new TIZEN™ System on Chip (SoC) displays provide businesses the opportunity to deploy digital signage without the need for additional media players. They are premium commercial products that boasts a range of improvements over their predecessors including Cortex-A12 1.3GHz Quad Core CPU, anti-glare matt display finish, slim design (29.9mm depth, 6.9mm bezels) and a range of brightnesses for most internal use cases. In addition, IP5x certified PHF and PMF Series displays deliver 24/7 robust durability to allow for uninterrupted and dependable operation of digital signage.
"With SSSP 4.0 the HTML, CSS and Javascript performance improvements have opened up opportunities for us to create enhanced System on Chip content playback that was just not possible previously"
Daniel Cruickshank – Full Stack Developer at embed signage
TIZEN-powered models currently consist of:
PHF ( 43″ / 49″ / 55″ )
PMF ( 32″ / 43″ / 49″ / 55″ )
Try for yourself!
Already got a TIZEN-powered SSSP Display? Set your URL Launcher to: embed.cloud/t then sign up for our free 28 day trial to begin exploring the power of TIZEN™ and embed signage.