Samsung Smart Signage Platform v5 TIZEN™ 3.0 Now Supported (2030 firmware and above)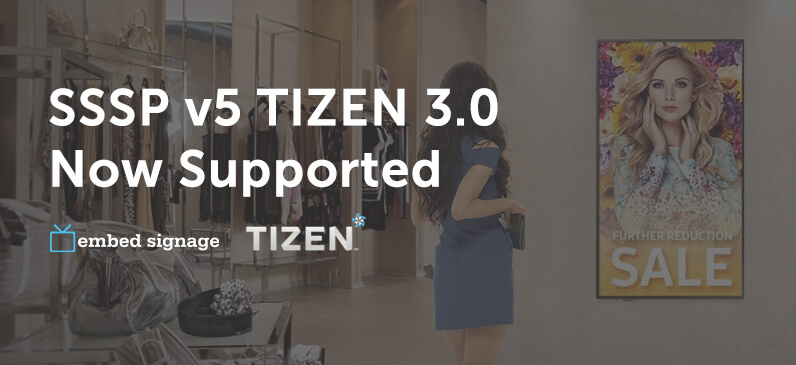 Samsung Smart Signage Platform v5 Tizen 3.0 displays running firmware version 2030 or above are now supported for use with embed signage.
The v5 Displays include the DBJ, QBH, QMH and QHH series which are UHD panels that will upscale the internal SoC FHD content – simply get the device online, configured to run embed signage and begin publishing content directly to the displays.
With SSSP v5 you get the usual SSSP features offered from embed signage, including:
Native Portrait / Landscape orientation support and ability to flip via CMS
Seamless video support (landscape only, portrait pending Samsung firmware update)
Multi zone content
IPTV support (HLS .m3u8 stream only)
Source Input – show HDMI source into zone
Device management including Screenshots, Network Info (IP, MAC etc), On / Off Timer config, Volume Control, Reboot and time/date config
Channel content delivery confirmation
Device stats including CPU performance and Storage space used
Models with URL Launcher and ability to run embed signage are:
DBJ (DB43J DB49J)
QBH (QB65H QB75H)
QHH (QH55H QH65H)
QMH (QM49H QM55H QM65H)
Try for yourself
Already got a v5 SSSP Display? Set your URL Launcher to: http://embed.cloud/t then sign up for our free 28 day trial to begin exploring TIZEN™ with embed signage.