Samsung Smart Signage Platform v6 support with TIZEN App v1.0.7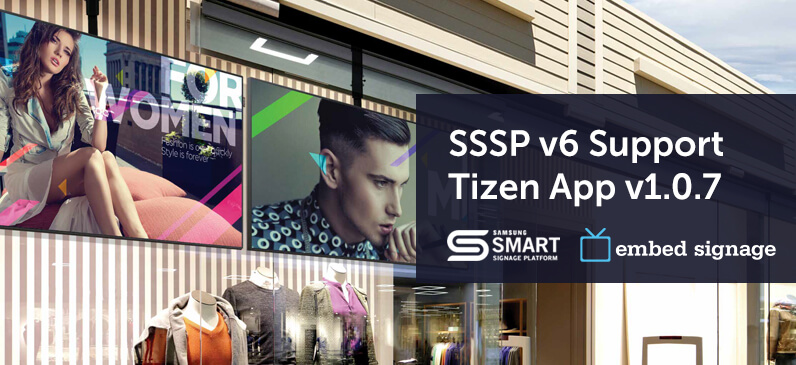 Samsung Smart Signage Platform v6 Displays are now supported for use with embed signage from Tizen app v1.0.7.
SSSP v6 is the latest iteration of the Samsung Smart Signage Platform and builds upon the previous versions with more security, improved content playback and troubleshooting aides.
Here are some highlights from the update:
Native Portrait / Landscape orientation support and ability to flip via CMS
Multi zone content
Device management including Screenshots, Network Info (IP, MAC etc), On / Off Timer config, Volume Control, Reboot
Channel content delivery confirmation
Device stats including CPU performance and Storage space used
Current SSSP v6 models compatible with embed signage are:
QMN – 43″, 49″, 55″, 65″, 75″
QBN – 43″, 49″, 55″, 65″, 75″
Try for yourself
Already have a Samsung SSP v6 Display? Sign up for your free 28 day trial then configure your device to run the embed signage Tizen v1.0.7 application.
Notes: UHD panels output FHD via the SSSP SoC.