Samsung SSP and embedsignage.com launch Demonstration Area at Samsung's European HQ in Chertsey, UK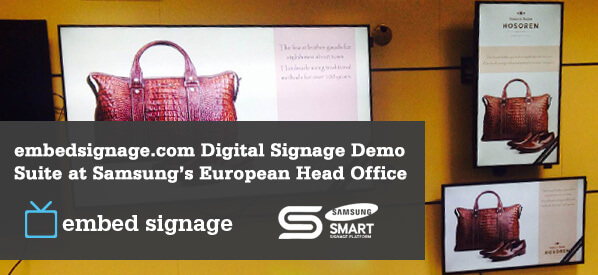 Eclipse Digital Media are pleased to announce the support of Samsung Smart Signage Platform SOC D Series displays via their cloud based digital signage software; embedsignage.com
"I have been working with the Eclipse Digital Media team over the past few months and have seen how far they have come in this short space of time. I believe the solution they have created will fit in all different sectors in the Digital Signage industry. Their cloud based system is very impressive and will only continue to grow even bigger due to their forward thinking and their creation of very useful solutions for the market" – Scott Varley, Samsung EDO EMEA Pre-Sales Hardware & SI Engineer
The support for Samsung SSP SOC D Series Displays through embedsignage.com means users of the cloud digital signage software now have the ability to deliver their multi zone digital signage content, in both portrait and landscape orientations, directly to a range of Samsung commercial grade displays. With this new addition to device support, embedsignage.com users benefit from being able to deliver their content to a range of hardware including Android, iOS, Mac, Windows, ONELAN and Samsung SSP SOC D series displays.
Alongside the announcement of the Samsung SSP support for embedsignage.com is the introduction of a new featured demonstration area for embedsignage.com at Samsung's European Headquarters in Chertsey, UK. This featured demonstration area allows visitors to see Samsung's 10" SOC display, 32" SOC portrait mounted, 32" SOC landscape mounted and a 55" SOC all displaying content from embedsignage.com. It also showcases how content can be changed on all screens using a Samsung Tablet that displays an interactive touch layout. The aim for the partnership is to showcase how software providers can integrate successfully with Samsung's SSP and deliver digital signage solutions to various markets.
"We've been working very closely with Samsung's European Development Team to support the D series displays through embedsignage.com and it's great to see this now up and running" – Colin Thody, Eclipse Digital Media Director
A short video showcasing the featured demo area for embedsignage.com and Samsung SSP at Samsung's European HQ in Chertsey, UK:
For a demonstration of embedsignage.com and Samsung SSP D Series displays please contact Eclipse Digital Media via their website or Samsung UK via their website.