Turn your Tablet into a Digital Advertising Pad for your Business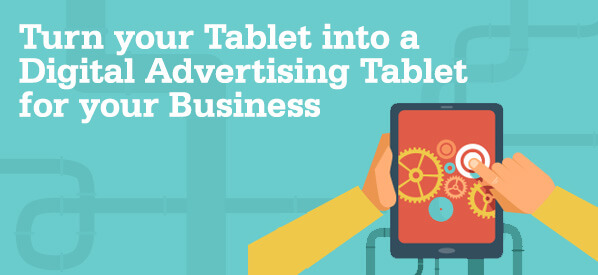 Hands up, who has a smart device? Tablets and smartphones have evolved at an incredible pace and the performance of some of these devices is now very impressive. In the Western Europe alone there are 196.6 million smartphone users and there will be an estimated 100 million tablet users by the end of 2014. Now wouldn't it be great if you could use those devices for digital advertising for your business as well as using them for other tasks? #WeHadAnIdea and now we've made that a reality – with embed signage you can turn your Android or iOS device into a digital advertising display for your business.
Let's imagine for a minute that you are marketing at an exhibition or are a shop owner and want to place a tablet at the front of your stand or counter to display advertising messages to your customers. Now you could set up a basic layout and roll through a playlist of images and movies but what about scheduling your content to play at different times of the day, days of the week or specific campaigns during time and date periods? embed signage provides you with full scheduling functionality so you can decide what content to display and when. How about taking the content further and adding an RSS feed from your website or Twitter feed for hashtags or handles? Bringing this type of content into your content gives your display a "real-time" feel and users will begin to interact more with your display.
Then, what about adding more more and more content to make your displays interactive, (afterall, that is what they are designed for)? Turning your tablet into a mini discovery point for your products and services? Again, with embed signage you can create multiple pages of content and using various touch interactions, you can decide what happens on screen when a zone is pressed. This is a perfect solution to showcase a variety of information, for example having a main page with your branding and core services or products, then by touching that service or product the tablet displays another page full of information about it… you could go as far as creating your own product catalogue for people to browse – all done using embed signage without the need for expert coding knowledge. Oh and did we mention, with the same system you can also publish content to your Windows PC, Mac or ONELAN digital signage media players? Discover more about the full features and supported platforms for embed by checking out the embed features page
Now it's all well and good us showing you what you could creatively achieve using embed but we have to tell you about device performance expectations:
1) If you want to use your iOS device (iPad, iPhone or iPod Touch) then you will need to have iOS 6 or above
2) If you are using your own Android device then you will need Android 4.2 or above
The benefits of using an iOS device are that you can run the embed signage application in "Guided Access" mode which means that you can lock down the tablet to only show your digital advertising content and stops users being able to browse out of that content (unless you have the master password of course). Unfortunately Android devices do not have this functionality built in which means notification bars and navigation buttons will still function on the device as normal, which is not ideal for commercial environments. We do supply a range of commercial grade Android Tablets that do not have any notification or system bars and can securely display your content without being able to navigate away (unless you have the knowledge and password).
Your device performance may be affected by the actual device hardware, the applications you have installed on it and the free storage space that is available so that's why we offer a 28 day FREE trial of embed so you can test out the system, your tablet performance and begin to make some interactive touch advertising content for your business.
Give it a try and see for yourself how you can turn your tablet into a digital advertising screen for your business.
Got some questions? Contact us and we'll do our best to help out. We'd also also love to see example of the what you've managed to create using embed for your tablets, so please send us your examples and we'll showcase the best ones on our website.