Ways to Watch & Engage with the Qatar World Cup 2022 on your Digital Signage ⚽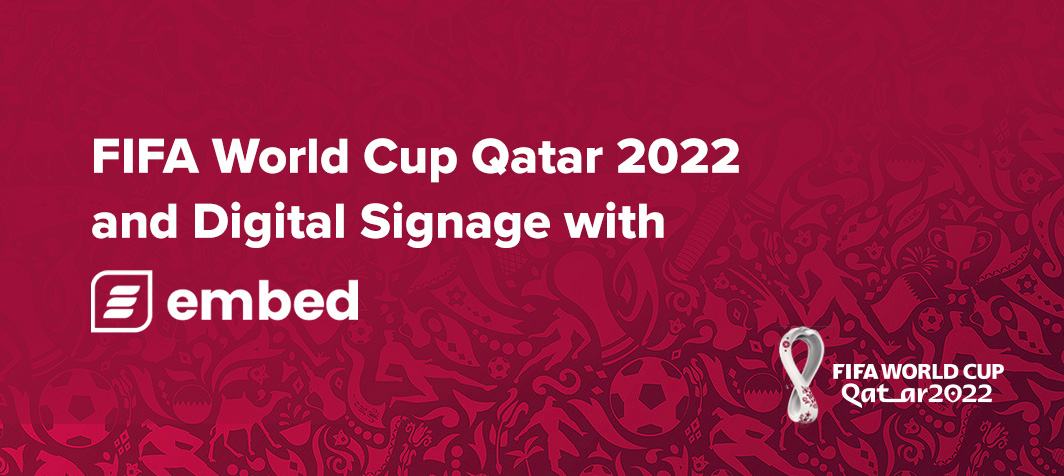 The mens Football (or, ahem, Soccer) World Cup 2022 kicks off in Qatar on Sunday 20th November 2022 with Qatar vs Ecuador. There's a total of 64 games being played before the winner is decided after the Final on Sunday 18th December 😮
In this post we'll share with you the various ways in which you can watch live games and absorb the plethora of information news and updates on your Digital Signage with embed.
Watch Live Games of Qatar World Cup 2022 on your Digital Signage
In the UK, every game will be broadcast live on BBC or ITV, with fixtures split evenly between the two broadcasters. Other countries like USA, games will be broadcast on a variety of local networks such as FOX Sports. If you want to show these games live on your Digital Signage, here are a couple of ways you can do that.
IPTV
UDP steaming – utilising locally installed IPTV servers or HDMI encoders to broadcast UDP Multicast over your network. Hardware compatible to decode these streams directly via embed are BrightSign and ONELAN.
Alternatively if you have HLS (HTTP Live Streaming) sources available then the hardware compatible to decode these streams directly using embed are Windows, macOS, iOS, BrightSign, Android, Samsung Smart Signage Platform v6+.
HDMI Input
This is where you hook up a TV box to a screen via HDMI (or distribute the TV box feed via HDMI extenders to screens). Hardware compatible to display a HDMI input embed is Samsung Smart Signage Platform and BrightSign.
Keep up to date with the latest Qatar World Cup news on your Digital Signage
Multimedia Feeds:
Utilising the Seenspire content app in embed you can create a Sports Feed and drop that directly into your layout playlists. You also have the ability to moderate the content by auto-blocking content with certain words or manually declining articles from appearing.
You can also take advantage of other content platforms such as Screenfeed that have a limited time World Cup Content App which can be placed directly into playlists on embed using the Website Widget – simply grab the Direct URL from Screenfeed and you're good to go.
The Screenfeed World Cup App includes Reuters News Stories and the Sports Central app for
Group Standings to see table groups
Knockout Bracket for a full view of all of the teams and the advancing winners through the stages
Game View to see two teams playing and time left or final score
Scoreboard View which shows the time left and final scores from games displayed
RSS text feeds:
Using the embed RSS widget you have creative flexibity to design a layout that dynmmically updates the news content from an RSS feed. Here's an example layout put together to show RSS news updates from The Independent:
Here are a few World Cup / Football / Soccer focused RSS feeds:
The Independent:
http://www.independent.co.uk/sport/football/world-cup/rss
ESPN Soccer :
https://www.espn.com/espn/rss/soccer/news
Fox Sports :
https://api.foxsports.com/v2/content/optimized-rss?partnerKey=MB0Wehpmuj2lUhuRhQaafhBjAJqaPU244mlTDK1i&size=30&tags=soccer/wc/league/12
You might also like to check out various RSS feed directories too such as FeedSpot:
https://blog.feedspot.com/fifa_world_cup_rss_feeds/
Twitter Accounts or #Hastags
Using the embed Twitter widget you can easily design your branded layout to include tweets or hashtags for the world cup – here's one we put together as an example:
If you're looking for further features like moderation, inclusion of media etc then third party services like Seenspire and Screenfeed are good places to explore.
Accounts to follow:
@FIFAWorldCup
@BBCSport
@FOXSoccer
Hashtags: #WorldCup2022 #WorldCup #QatarWorldCup2022
Other social media content curation feeds:
If you're looking to showcase user generated content from other social platforms such as Facebook and Instagram, then third party services such as Seenspire, Screenfeed and Taggbox can be used with a Direct URL placed into your playlist in embed. These platforms also offer tools such as moderation and filtering to help you manage what content fills the feed.
Ready to get started?
If you already have an embed account simply login and start exploring how to show FIFA World Cup Qatar 2022 related content on your digital signage.
If you are not yet using embed, start a free 28 day trial today by registering here.