Are You Managing Your Digital Signage Blindfolded?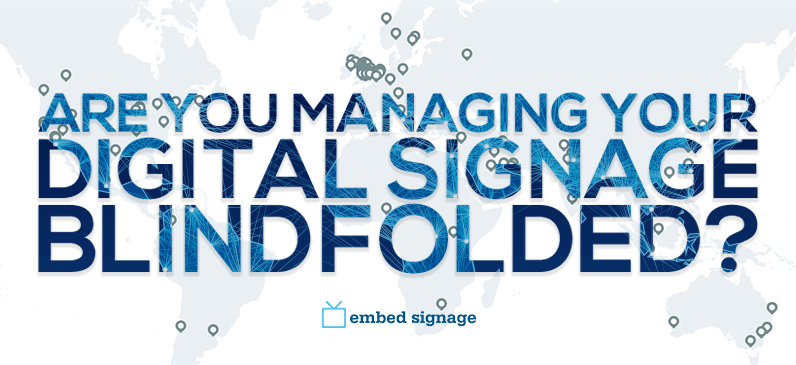 Are you managing your Digital Signage blindfolded?
So you've been put in charge of Digital Signage. Now, understanding what's going on and how to manage your Digital Signage can be tough, especially if you have a fleet of displays. No need to fret, below are a few features and third party tools that can help you.
In this post we cover:
Third Party Management Tools
Device Controller
Built-in Management Tools
Analytics – Sneak peek
Third Party Remote Management Software
For devices such as Windows, Android, ONELAN, Chrome OS, iOS and Mac there are various third party software options to remotely manage devices, some with full remote desktop control. We've listed a few of these below:
Teamviewer
Teamviewer is a great option for accessing devices in which the operating system is still functional. Once setup (which is very simple), Teamviewer runs in the background with very little effect on performance and allows full access and control of that device, as if you were there.
ONELAN
ONELAN NTB's (Net-Top-Boxes) can be remotely controlled by a ONELAN DSM (Digital Signage Manager). It allows remote VPN connection for re-configuration of settings, live screen shots and device status such as online status, system usage and temperature.
Intel® vPro
Devices that use Intel® vPro chipset have Active Management Technology and advanced remote KVM (Keyboard, Video, Mouse) access capabilities. Once set up, control of the device can be managed remotely even if the operating system has crashed! This is due to the separate chip set at the BIO's (basic input-output) level that is always on, meaning no connection is lost even when off, rebooting, OS is down or the hardware has failed.
Mesh Central
Mesh Central works in conjunction with the Intel® vPro technology to provide complete control over your remote devices. Perform power actions, remote into the terminal and transfer files locally via this HTML5 based platform. You can also receive live power states through a visual aid.
Chrome Management
The Chrome Management Console allows for remote configuration of thousands of Chrome devices, from a single location. Through the Google admin console, network, settings and device information can all be accessed and edited [full list see here]. More information about chrome management can be found here.
iOS
Xinca offers mobile device management software, purpose built for iOS and MacOS devices. Xinca is a great option for basic control such as checking device status, wiping and pushing updates, all from a web based interface.
embed signage Device Controller
So let's think about a real life scenario for a moment, you are the Digital Signage network operator and you have devices in several locations (none of which are close to you), you receive a support call from one of the sites:
The Problem…
An issue is reported with one of the displays.
The screen on the other side of the globe (literally or metaphorically).
You need to check what's being displayed.
Trying to get the answers you need over archaic forms of communication.
The Solution… The embed signage Device Controller.
Available directly from the Devices page of embed signage, the Device Controller allows for varying remote device management. For v3.4.6+ SSSP application, users with SSSP displays can obtain live screenshots of what is being displayed on the devices. Reboot, turn the backlight on & off, mute, adjust volumes, set device time and date as well as scheduling the on / off timer… all from the Devices page.
The embed signage device controller is also available for Windows, MacOS and Chrome OS with varying capability.

The chart below highlights the Device controller features for the various platforms (as of 4th July 2016)
| | SSSP | Windows | OSX | ChromeOS |
| --- | --- | --- | --- | --- |
| Screenshot | | | | |
| Reboot | | | | |
| Volume Control | | | | |
| Backlight on/off | | | | |
| Set on/off timer | | | | |
| Set date/time | | | | |
Device Statistics
Current CPU performance, temperature, available storage space of internal or external units are all available in the specific device settings page. It is also possible to get Channel Received data that provides a date/time stamp for when the device completed the transfer of data from the channel it is assigned to.
Varying amounts of device data can be obtained depending on the hardware used, download the device compatibility chart for full details.

Other useful information such as online status, location and last connected time / date are all available and are valuable tools for determining device issues.
Troubleshooting
Let's face it, with technology, sometimes things go wrong. That's why for SSSP devices there is a remote troubleshooting function built into embed signage. This option will wipe data from the display, reboot it then re-download a squeaky clean, new version of the app along with any content from the layout assigned to it.
Management Tools
embed signage offers a range of useful tools to aid with the management of your digital signage network.
Folders
Nothing revolutionary here… but where would we be without folders? Being able to segment devices, media, layouts and channels into your chosen categories such as location, will keep your inventory exactly where it needs to be.
Tag'em up
Apply tags to media, devices, layouts or channels to group your content. Tags can also be used as a powerful tool for making dynamic playlists as well as excluding or exclusively playing media on a device with matching tags.
Quick Search
Close to launching your keyboard across the room because you can't find the global playlist you made last week? embed signage's search function allows you to find any media, devices, layouts, channels and global playlists by just typing a few characters. This search function also pulls though frequently asked questions and help options such as 'How do I create a playlist?', to teach you the basics.
Geolocation
Pinpoint devices with the 'show on map' option. This tool will allow access to the devices most recent location on the live map. Depending on the device, location can be automatically set or entered manually through the map pin or address entry. A useful tool for visualising the location of your displays but also a very practical feature if you are using the Weather Widget or Conditional Play based on the weather temperature.
Scheduled publishing
Know you're going to be stuck in a meeting right when you need to push new content live? Scheduled publishing allows users to set a specific time and day in the future to publish new content. Apply the scheduling to as many channels as required. 'Just set and forget'.
Give your stamp of approval
Delegate roles with specific user permissions not only for safety precautions, but to make sure your content goes through the right workflow before distributed. For example, set roles for users that can manage media and build layouts, but that can't publish the content. Set up other users with the ability to view layouts and publish content. Segmenting responsibilities to help manage your network will help get the most from your team and let them focus on what they are good at.
Analytics – Coming Soon
In the not too distant future, embed signage will be releasing a fully fledged analytics system to monitor activity on the platform. Devices, playback, impressions, sessions and layouts can all be quantifiably measured and returned in graphical form. Discover the most effective content by measuring touch impressions over a set period, and most importantly change what isn't working.
To be kept informed about all the latest software updates and the forthcoming analytics release, connect with us via our social media profiles (links in our footer) or sign up for our newsletter:
I hope this post has delivered some valuable recommendations on how to manage your Digital Signage network with some third party and built in tools.
What tools do you use to manage your network of signage? Share your tips in the comments below.
Not using digital signage yet?
If you've not using digital signage yet, give it a try. Sign up for a free 28 day trial or get in touch with us here.