Development Log: 7th June 2016 updates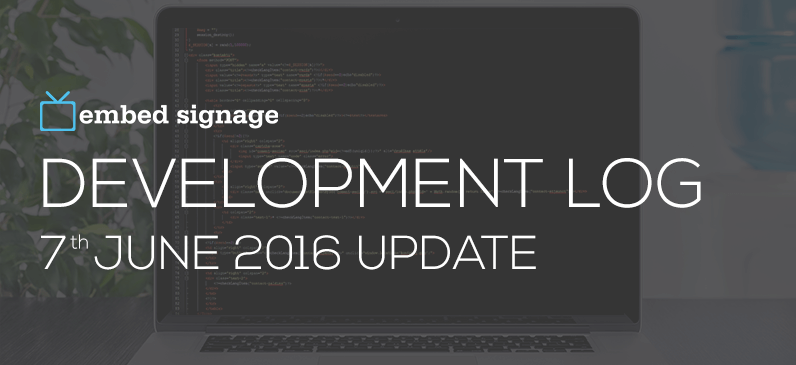 Today we have made further improvements to embed signage that we hope you'll enjoy. Details of the update include:
Samsung Smart Signage Platform (SSSP) Application Updated to v3.4.5
Firmware updating bug fix
Seamless Content Playback in any orientation (requires SSSP video optimisation)
Remote troubleshooting
Blank screen after page change fixed
Playback stability improvements
If you are running SSSSP D or E series, we recommend that you update your application to the latest version. To do this, follow these steps.
UI updates related to Samsung Smart Signage Platform (SSSP)
Added remote troubleshooting to Devices page UI.

By selecting to run the SSSP troubleshooter app (only works with V3.4.5 app or above) the device must be online first. With the device running online the Troubleshooter application will wipe the device of all files and reboot. Once rebooted content will re-download (if assigned to a channel) and begin playback.

Added Available Storage Space to stats on device page.

This shows the available storage space on an SSSP device (internal, USB or SD card).

SSSP Video Optimisation.

This is required for an SSSP device to benefit from Seamless playlist content playback in any orientation. To enable SSSP video optimsation for various orientations go to Default settings > Video > Optimise for SSSP > Select orientation.

Each video that has already been uploaded and subsequently uploaded to an account will be optimised to run at the selected orientation on SSSP. Now, your SSSP device will run seamless playlist content (including video) in any orientation.
Other improvements
Device Conditional Play (all devices)

Hyper-targeted content playback with device conditional play tagging. Tag a device and select whether to display or exclude media with the same tag from the playback on that device.

Login UX improvement

Users can now login to their account using either their email address or username for the username field.

Navigation Menu UX improvement

Global Playlists is a great tool for creating and maintaining a single playlist that can be added to multiple layout designs. For adding and editing playlist content specifically on a layout, this is done via a zone playlist. We commonly see users creating and using Global Playlists when they do not require this feature. We have therefore aided the learning process by removing it from the primary navigation sequence.
We are constantly developing and improving embed signage. To keep up to date with all the latest improvements sign up for our email alerts and follow us on our social media accounts.
Subscribe to receive emails from