embed becomes a BrightSign BSN.Cloud CMS Integrated Partner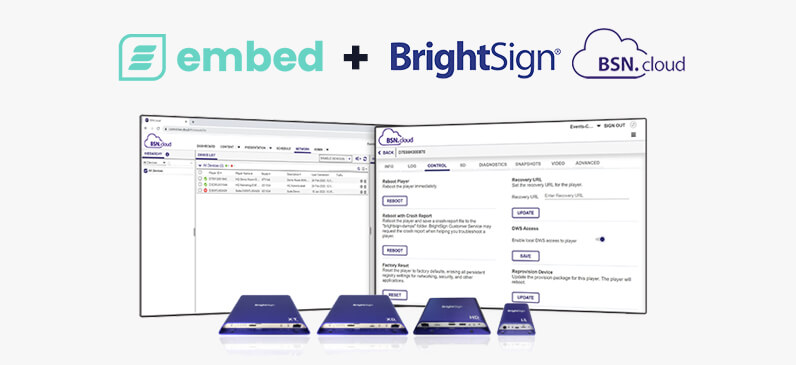 BrightSign launched BSN.cloud early in 2020. The platform allows users to manage BrightSign devices via Control Cloud. Through this cloud based device management platform, users can install digital signage CMS partner applications. We're delighted to announce that BrightSign have expanded the CMS integrated partner list to include embed signage.
What is BSN.cloud?
BSN.cloud Control Cloud is a free subscription included with every BrightSign player running OS 8. It delivers cloud connectivity for real-time player control from anywhere as well as simple setup and provisioning features with a quick drop-down choice of CMS, where users can now find embed.
BrightSign and embed signage
Using embed there are already integrated BrightSign player control features such as screenshots, scheduling reboots, firmware updates and setting time zones along with various data displayed for Network info, resolution and more. By using BSN.cloud Control Cloud customers can further manage the BrightSign players including player diagnostics, while taking advantage of the great digital signage software features embed has to offer such as Analytics, touch, 4K, IPTV, Nexmosphere sensors, HDMI in and more.
Who are BrightSign?
BrightSign, LLC is a privately held company located in Los Gatos, California founded in 2002 by Anthony Wood, the inventor of the digital video recorder (DVR). BrightSign has sold over 1.6 million media players to date, and is the global market leader in digital signage media players as named every single quarter since IHS began publishing its "Global Market for Digital Signage" research study. These quarterly studies report on global market share of all media players and PC-based signage solutions combined. BrightSign players are known for their signature reliability, affordability and ease-of-use by the commercial digital signage market worldwide.
Get started for free
Ready to give embed signage and BSN.cloud a try?