How to Supercharge your Signage with Weather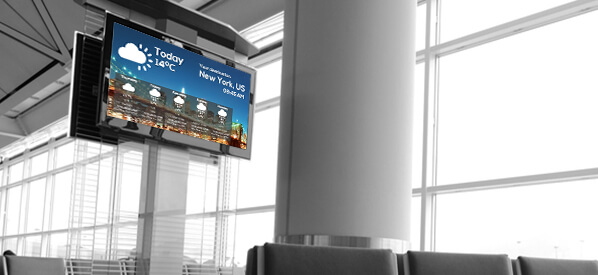 Weather affects us all. This means it takes centre stage for many topics of conversation and impacts our actions in many ways. It is clear that displaying such a prominent subject in a visually engaging way is suited to numerous digital signage applications and would be extremely useful for both consumers and companies alike.
As weather is a subject that everyone is influenced by, it can be used as part of a clever content strategy to grab the attention of any passerby and promote other content that is being displayed alongside it – in turn boosting the engagement and effectiveness of whatever else is being displayed.
weather can be used for dynamically changing content in real time
Using Weather within digital signage doesn't have to be just a simple display of temperature/forecast data, it can also be used for dynamically changing content in real time. For example, safety information could automatically be displayed when certain temperatures are reached. Outdoor public venues could remind customers to top up on their sunscreen and fluids; showing a duty of care whilst promoting these items for sale.
With embed's conditional play feature, weather rules can be added to any page, zone or playlist content to specify when it is valid to play based on the real-time weather data for the device it's running on. Weather rules include:
Weather states – storm, fog, snow/sleet, sun/clear, rain, overcast/cloudy
Temperature – °C or °F
Wind speeds – Kph, Mph
How much of the digital signage display is used to show weather content can be varied and in certain scenarios, scheduling your weather content to make it more prominent at peak times of footfall. By doing this it not only keeps the displayed content fresh but can help to boost overall signage engagement, as people learn to reference the display for information.
Here are some other creative ways to make use of Weather within Digital Signage that'll 'blow you away' (ahem):
Sailing Clubs – Wind speed and directional information would be valuable knowledge for revealing ideal and safe conditions.
Hotels – Temperature and forecast information could help guide guests to plan their activities for the rest of that day or week.
Garden Centres – Forecast data could be implemented making sure staff keep the Rhododendron's watered for the upcoming heat wave.
Harbours and Airports – Up-to-date weather for the traveller's destination could be displayed in the waiting lounge so that passengers and crew can have their umbrellas ready upon arrival.
Retail Group HQ – Displaying forecast data gives procurement and supply chain managers insight to help plan for future buying behaviours such as ensuring stores are stocked up on those burgers and disposable BBQ's just in time for the weekend heat wave rush.
Corporate – With weather displayed, employees can create their travel plans accordingly to ensure they don't get drenched before their big meeting or lunch.
Sport and Leisure Centres – Many sports and leisure activities revolve around weather conditions both for participants and observers. Providing this information on a display for the audience could mean they can plan when they are likely to be eating strawberries and cream or breaking out the umbrellas at Wimbledon.
weather is a powerful yet underestimated tool for digital signage content
Having the ability to display weather content in a variety of creative ways means content creators have the flexibility to choose what content is displayed relevant to the situation, location and time.
Giving the audience weather information can be as simple as a temperature stamp in the corner of the display or it may be a more detailed combination of live temperature and the current conditions – both in visual and text forms – alongside forecast data, location names, wind speeds and wind directions. All of these content types can be combined to create an awesome, detailed and visually engaging application to include within your digital signage.
Is your signage supercharged?
Are you using Weather as part of your Digital Signage content yet? If so, let us know how you incorporate weather into your content and make use of what we believe to be a powerful, yet underestimated tool. If not, give it a try by logging in to your embedsignage account and give the weather widget a try.
Not using embedsignage yet? Try it free by signing up for a free 28 day trial right here .
Keep up to date with all all the latest news and tutorial videos by either subscribing to our mailing list or connect with us via our social profiles: