New Features Update May 2016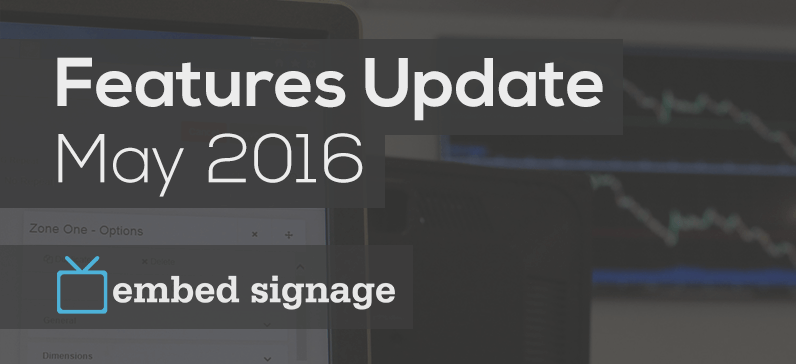 Features Update – May 2016
We are excited to announce the latest update to embed signage.
Check out our highlights video:
Highlights of this update include:
Responsive UI
New Playlist Animations
Further Device Controller Support
Tagging
Channel publish scheduling
Seamless SSSP Video Playlisting
SSSP external storage support (USB or SD)
Video Rotation
Device Location Address Entry
Default Playlist Settings
Content Preview by Device
Release notes and full updated features list:
Responsive UI – use a tablet or mobile to access and manage your devices and schedules (excluding layout builder and global playlists)
New Playlist and Zone Animations – 12 new animations added including zone animations with delays (animations not supported on SSSP)
Device Location Address Entry – locate device by map pin and now by adding an address
Search Function Improvements – account wide search. Type a query on any page and search the entire account in all areas
Further Device Controller Support – Device controller migrated to devices page. Further device support includes:

SSSP – device screenshot, volume up, down and mute, reboot, screen on / off
Windows and Mac – device screenshot, volume up, down and mute, reboot
ChromeOS – reboot only
ONELAN, iOS and Android – Device controller not supported

Tagging

Add tags to devices, media, layouts and channels
Dynamically create playlists using media tags

Channel publishing improvements

Ability to publish multiple channels with a single click
Schedule channel(s) to be published at a future date and time
Faster and more efficient publishing of content

Video Rotation – Flip uploaded video files 90°, 180° and 270° generating a natively rendered version at the selected orientation
Preview Content by Device – preview layouts by device to see device specific content such as Weather
Seamless SSSP Video Playlisting – Seamless video content playback within playlists (without black screen) for SSSP landscape orientation
SSSP External Storage Support (USB or SD) – Increase the storage space for SSSP devices by selecting to use external USB or SD card
Password Reset & Security Improvements – New passwords now require a minimum of 8 characters consisting of at least 1 symbol, 1 number and 1 letter. Security measures in place for a succession of failed login attempts.
Media Page Improvements

Transcoding progress bar on uploaded video content
Improved media uploader
Download individual media items

Layout Builder / Global Playlists:

Next page option for page timeouts, content triggers and touch events.
Additional actions applied to page timeouts and touch events to match new actions from content triggers
Volume control for individual Audio and Video content items in a playlist

Folder Improvements – Edit folder names, colours and parent
Merged trash view – a single trash folder for all trashed items. Devices no longer go to trash on delete, now they are permanently deleted.
General UI improvements:

Device map updated to show online/offline on pin
Page load speeds improved
Collapsable files and folders
Folders removed from sidebar
Plugins now listed as top level items rather than in dropdown

Notifications – Account dashboard notification when SSSP device storage limit is exceeded or when the storage selected is unavailable.
Default Playlist Settings – Set defaults for playlist content types such as images, movies and audio to include timing, animation and sizing.
Changes to Dynamic Data Plugin – Dynamic data content now requires publishing via channels to update. No longer automatic content updating.
Bug fixes:

Layout thumbnails now show properly
Temperature and channel received data on device now shows correctly
We hope you enjoy these new features and we look forward to bringing you many more in future.
What do I need to do?
In order to benefit from all of these new features, please update your device applications / software as follows:
Windows – update to 3.4.2 and republish channel content
Mac – update to 3.4.2 and republish channel content
SSSP – update to 3.4.0 by rebooting the device / relaunching URL launcher with a working network connection (screen will show updating URL)
ONELAN – republish channel content
iOS – no update required
Android – no update required
Chrome OS – no update required
Troubleshooting
If your account dashboard does not show the new changes, please clear your browser cookies and cache then reload the embed signage dashboard by doing SHIFT + REFRESH.
Although unlikely, you may experience an interruption to your device content playback. If so, please take the following steps:
1. Republish content to your device(s).
2. Restart your device(s).
If this does not resolve the issue, please contact us.