South Downs National Park Authority Turn to embedsignage for Interactive Visitor Experience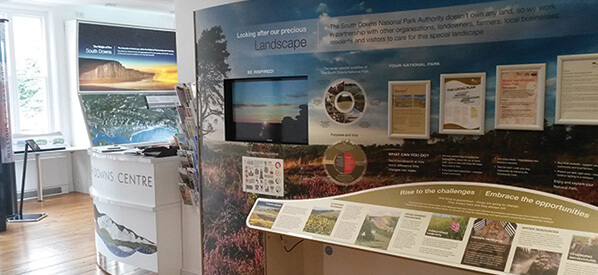 South Downs National Park Authority have launched an interactive exhibition at the main visitor centre in Midhurst, UK. Included as a core element of the exhibition is interactive Digital Signage powered by embed signage. Using embedsignage.com, South Downs are able to create interactive touch content to be displayed on Tablets, publish full screen video content to large screens and manage all of their content from one simple online interface.
Stephen Sibbald, the Interpretation Officer at South Downs National Park Authority responsible for driving the Exhibition forward said "Eclipse Digital supplied the digital technology for our new visitor centre in Midhurst, West Sussex. They provided an excellent service with high quality support coupled with a positive and friendly attitude throughout. I have found them to extremely knowledgeable and easy to work with and would highly recommend their work and staff."
Using the Domain Verification Plugin on their account, the tablet content created in the layout builder, allows specific zones to display full screen web pages once selected. The Domain Verification plugin checks the domain requested has been ed or restricted before displaying content on the tablet screen. As the user browses the web page should they click onto a link that is not within in the Domain Verification , for example Twitter, it will not allow the user to progress to that site. This plugin provides South Downs with a secure way to provide an engaging web experience while keeping the user within the intended digital signage design path.
By selecting embedsignage.com as their digital signage software of choice, South Downs have gained the flexibility to create and distribute content in exactly the way they desire and benefit from a wide choice of hardware to display their content on. The cloud based digital signage platform gives them a single central interface to update their exhibition digital signage content, that can be edited quickly from any location with an internet connection.
If you would like to know more about this project, please either contact us via the website, connect with us on our social pages or visit the South Downs National Park visitor centre in Midhurst.
Are you interested in learning more about how using emebdsignage.com can help give you enhanced digital signage flexibility for your projects? Sign up for a free trial or contact Eclipse Digital Media to discuss further.