Why Digital Signage? Key Digital Signage Statistics Infographic & Videographic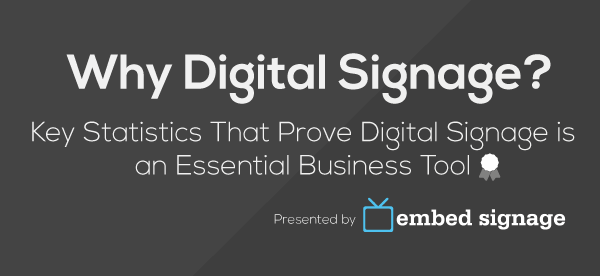 Why Digital Signage? What makes Digital Signage such a powerful tool with numerous applications across multiple industries? Here at embed signage we want to prove it to you now. As well as presenting these amazing digital signage statistics to you through this blog post, we've also created an infographic and videographic to help you digest the information, which can be seen further down the page.
Digital Signage Statistics Video
Digital Signage predominantly consists of building brand awareness, delivering important information, increasing operational efficiency or generating a return on investment all whilst breaking through the noise and clutter of the competitive marketplace.
With an industry that is predicted to hit in excess of $20Billion by 2020 (Grand view research), it is clear to see that Digital Signage is now recognised as a necessity in many aspects of business. And that's not all, digital signage has a recall rate higher than any other form of traditional media with 83% of people recalling at least one ad seen on a digital billboard in the past 30 days (Arbitron).
By looking at a few different industries where Digital Signage can be implemented, we have highlighted some of the ways it can be highly effective:
Corporate
Internal communications are key to keeping the company up to date with the latest news and announcements. Corporate messaging, room booking, emergency information and the latest figures can be instantly displayed across the network of digital signage screens. Digital displays capture 400% more views than static displays (Intel corp) so you can be sure everyone is informed.


Restaurants
Implementing Digital menu boards along with allergy information boards can not only create a more aesthetically pleasing and efficient way of displaying the menu content, but digital menu boards typically present up to a 5% sales lift (Eclipse Digital Media). With 74% of customers saying an easy to read menu is their top priority (Digital Signage Today), Digital Signage gives the option to experiment with different menu sizing and content design without the need to get it reprinted, saving time and money.
Retail
8/10 customers have entered a store because of a sign catching their interest (Fedex Office). This therefore makes it clear that Digital window signage can be an extremely influential medium. One retailer noted a 24% increase in footfall after implementing digital signage technologies (Computacenter).
80% of brands experienced a significant increase of up to 33% in additional sales through the use of digital signage (Digital Signage Today) with an appeal more towards hedonic products rather than planned purchases. There is also a significant halo effect on the family of brands of nearly 7x and overall category increase of 11x that of the featured product (Burke, 2009*).
Waiting in line for the checkout is not much fun. Digital signage can reduce perceived wait times at checkout by as much as 35% (Lavi field study), therefore creating an improved customer experience and brand loyalty, with potential repeat custom.
Education
Digital Signage is helping to change the ways in which educational facilities communicate. Being able to display announcements, timetables, emergency information and even digital menu boards allow fast and legible information to be delivered in real time. Digital Signage offers a completely scalable structure meaning no matter how many screens you have, you can push your data to a few or all screens with a click.
Finance
Up-to-date information to keep customers and staff informed with the latest financial information, news and offers whilst promoting the brand image is vital, as 90% of customers are acquired in bank branches (Booz & Co). This is backed up by the fact that nearly 7 in 10 customers have actually purchased a product or service because a sign caught their eye (Fedex office study).
Constant engagement with the customer, even when you are not talking face to face improves the overall brand experience. 'Occupied time feels shorter than unoccupied time' – David Maister, Psychology of queuing.
Healthcare
Keeping patients informed and / or distracted can improve the overall healthcare experience. For example a queue management system alongside the latest news could help lower anxiety and physiologically reduce waiting times. 'Unexplained waits feel longer than explained waits' – David Maister, Psychology of queuing.
Digital Out Of Home (DOOH) – Advertising
According to a post by Exterion Media, Digital already accounts for around 22% of the outdoor market's annual £1bn sales and by 2020 that proportion is expected to rise to 35%. With £1 in every £3 spent of OOH advertising expected to go to Digital OOH in 2015 within the UK it's clear to see Digital Signage is having a major impact on the way advertisers engage with audiences (WARC).
From the advertising network operator's point of view, using Digital Signage for outdoor advertising can be a highly profitable venture. By choosing to advertise using digital signage over static signage, the advertising network's monthly revenue can increase by a significant 800% according to MRI. Even more appealing is that by switching from static signage to interactive / touchscreen advertising, ad sales can increase by a massive 1200% – now those are some serious figures worth considering as a digital signage advertising network.
Rules to make your Signage Work:
Placement
The most important rules to remember when implementing your digital signage solution are #1 Location and #2 Content. Location, so that it reaches the desired audience at the right hight and size so that it is legible and easily visible.
Content
Content can really make your digital signage stand out from the crowd. Make sure it is relevant, easy to read and aesthetically pleasing. Motion gets noticed much more than static content too, a study by Intel discovered that on average, animated content received 5 times more viewers than static and further found that the engagement was for a much longer period of time. If you are using video for sales, a DS-IQ study found that shorter ads of around 15 seconds lifted sales by more than 50% compared to a single 30 second advert.
Reliability
It is hard to imagine how many industries would be without the power and reliability of digital signage. Reliability is key when operating an digital signage network. For example the retailer we highlighted earlier as seeing a 24% increase in footfall attributed to digital signage, if that display was constantly turning off and relying on staff to manually reboot regularly, this would have a significant negative impact on the overall business.
Hardware Spec
Commercial grade displays for digital signage are purpose built for extended use, durability, visibility and there is a wide range developed for specific environments. For example if content needs to be displayed outside or in a window, a display with appropriate brightness and contrast will be needed for maximum impact. If interactive content is displayed, making sure the touch display and associated media player are both responsive and powerful enough to deliver the content intended for the users. Ensuring the right hardware is chosen to deliver the intended content in the intended environment is the final piece of the puzzle to ensure an engaging and powerful experience is delivered.
Not using Digital Signage yet?
If you've not yet experienced the power of Digital Signage, give it a try. Sign up for a free at embed signage or get in touch with us here. If you already have harnessed the power, login here and try something new.
Keep up to date with all all the latest news and tutorial videos by either subscribing to our mailing list or connect with us via our social profiles:
*Raymond R. Burke, Journal of Advertising Research, Vol. 49, No. 2, June 2009, pp. 180-185