embedsignage.com and Samsung Smart Signage Platform at ISE 2015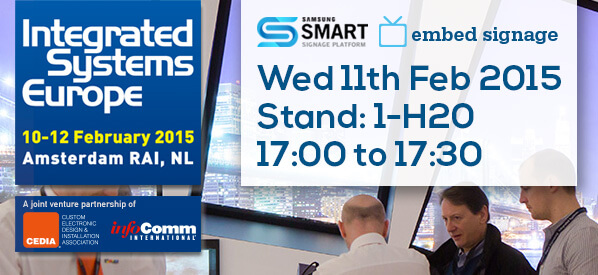 Following the support of Samsung's Smart Signage Platform (SSSP) through embed signage, Eclipse Digital Media have been selected to present the Digital Signage Solution at Integrated Systems Europe (ISE) 2015.
A 30 minute presentation will take place on Samsung's Stand and Partner Speaker Zone (1-H20) to showcase embedsignage.com and the features for Samsung's Smart Signage Platform. Content covered during the presentation will include an overview of existing and forthcoming full release SSSP supported features through embedsignage.com that include:
IPTV
Source Input
Remote Screen Management
Touch
Video Playlisting
Room Booking
Dynamic Data / Excel Updated Content
Analytics
Presentation Details:
Wednesday 11th February 2015
17:00 – 17:30
Samsung Stand: 1-H20
ISE 2015, Amsterdam RAI, Netherlands
If you're planning to visit ISE 2015, register for FREE using this link and enter the INVITATION CODE: 705485 – saving the show registration fees of between €60 and €80.